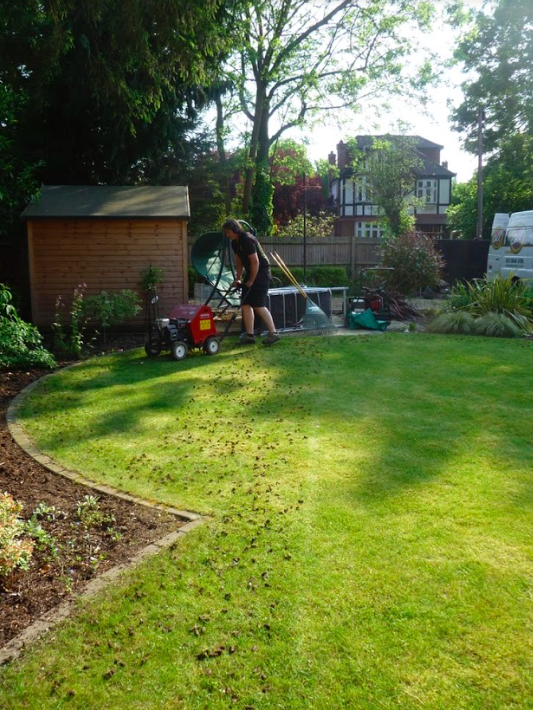 What is Aeration?
Aeration is the most effective way of reducing sub-surface thatch and compaction in lawns, often the main causes of moss.
The benefits of aeration are:
Thins out below-the-surface thatch

Relieves compaction in the soil

Reduces/removes the moss environment

Increases water, nutrient and air access to the soil

Increases root development

Improves the lawn's ability to cope with drought and disease

An overall healthier lawn
Aeration is an essential practise of a good annual lawn treatment programme
Although there are a few different types of aeration, hollow-tine and fracture-tine are the best for lawns. We will recommend the one most suited to your lawn conditions.
Hollow-Tine Aeration
Hollow-Tine Aeration is the most effective way to thin-out below the surface thatch in a lawn. It does this by mechanically removing thousands of cores from the lawn.
How does All Gardening know if my lawn needs aerating?
We check the lawn by taking a number of cores samples in a variety of places over the lawn. The process of taking a core sample allows us to take a closer look at the levels of sub-surface thatch and what the soil is like. We will be able to tell how compacted the soil is by examining the conditions of the roots and how tight knit the soil is. This evidence provides us with enough information to recommend aeration for compaction. Likewise the thickness of sub-surface thatch tells us if aeration is needed.
What time of the year should a lawn be aerated?
We carry out aeration between the latter part of the year and spring. We choose this period as it usually gives the greatest opportunity for the root zone to receive water and air. Even very cold conditions following aeration are most helpful in the break-up of compact soils or sub-surface thatch.
How often should a lawn have aeration?
Aeration forms an important part of a good annual programme of lawn maintenance.
What do you do to collect the cores left over from aeration?
Although some experts suggest that going over the lawn with a rotary mower without the collector turns the cores into a form of dressing, this is only applicable to certain soil types. Your local All Gardening might also offer a service to collect them. Ideally, for a lawn, aeration should be immediately followed by scarification. Scarification removes thatch, which is then collected and bagged for disposal.
How much does it cost for my lawn?
If you would like to know how much this service costs for your lawn right now, why not give us a call.
EVERY one of our visits is backed by the All Gardening Lawn Service Lawn Guarantee. We strongly believe that a lawn changes from day to day and to keep it in top class condition you need to monitor its condition on every visit. So we use a little bit of technology to keep track of the condition of your lawn and record what we see when we visit.